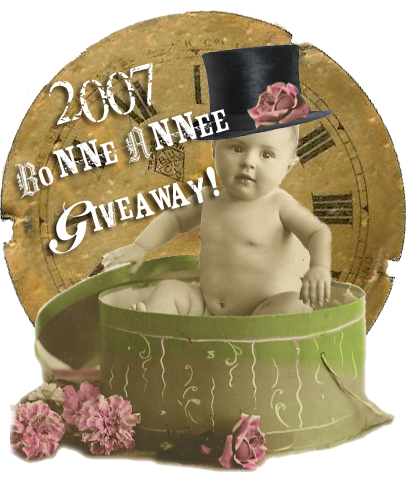 Since it has been such a great year here at Faded Rose Cottage...our business has grown considerably, and we have made lots of friends and connections out in the online world, that we want to give back!!! So in honor of 2007, we are having a "Bonne Année" Giveaway !!!! Literally meaning "good year" in French...it is how the French say "Happy New Year's" to one another...and how we are ringing in 2008!
I have put together a lovely selection of items for you to celebrate with this New Year's Eve...including several handmade items created especially for you...by moi!
You will receive a paper 2008 mobile, embellished with German cut-glass glitter to ring in the new year, two green wine glasses adorned with vintage millinery flowers and filled with goodies, several reproduced vintage New Year's greetings (some have been embellished with cut-glass glitter!), a bar of "Easy Breezy Fresh & Clean" soap from the Melissa Francis Heart & Home Collection to start the year off fresh and clean, a vintage beaded collar, fashion pearl necklace, and snowflake rhinestone brooch to have you looking like the belle of the ball! I have even included a vintage Simplicity pattern for those who love the vintage glamour look!
Decorate your home with silver and crimson ribbons, a mini painted tin tray, vintage silver ball ornament, a print of one of my "party" collages (6"x 8"), and a brand new French-inspired address book for all the new contacts you will make in the upcoming year!
And my favorite item...a handmade...one-of-a-kind...Baby New Year's Party Hat! I created this hat with lovely papers, reproduced vintage images, gold ribbon, and a wine bottle cork to top it off!
So...now you might be asking...but how do I win all these pretty items???!!! Well that is simple!!! Simply post a comment on my blog, as often as you would like, from now until December 18th, 2007...which is the date I will draw and announce the winner! I will enter your name in for each comment you make on any of my blog posts (including this and all previous and new ones to come).
You can also enter to win by making a purchase on our site. All orders (no minimum purchase to enter) placed from now until the 18th will automatically be entered 3 times for each item ordered!!!
Please leave an email address if you do not have a blog, so that I can contact you if you are the winner. The giveaway items will be shipped out within 1-3 days of receiving your mailing address information.
Good luck to you all!
Bonne Année!!!